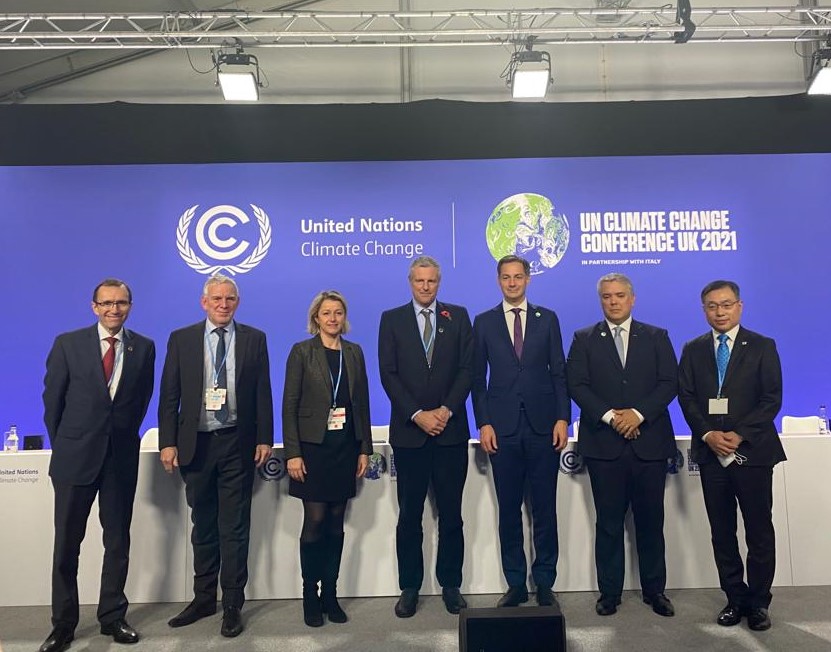 The overarching framework for the day was a joint commitment from over 100 countries to stop deforestation by 2030 in order to limit global warming to a maximum of 1.5 degrees Celsius.
Today, 12 donor countries – including Norway – announced the largest ever investment of public funds for forest conservation.
NOK 105 billion to the rainforest
As much as USD 12 billion, equivalent to NOK 105 billion, will be put on the table to protect and restore the rainforest from 2021 to 2025.
– We must work for an improved global framework for climate investments. To "keep 1.5 degrees alive" we have to halt forest loss this decade. Tropical forest countries need more international support and incentives to transform their land use policies. We will continue and further develop Norway's International Climate and Forest Initiative (NICFI) at high levels until 2030, and we're excited to be part of a growing coalition of donors and companies mobilizing to reduce deforestation and enable a just rural transition. I am particularly pleased that we are joining forces to secure indigenous peoples' rights and increase the recognition of their role as forest guardians, said Norway's Prime Minister Jonas Gahr Støre.
Both Gahr Støre and Minister of Climate and Environment Espen Barth Eide attended the high-level Action on Forests and Land-Use Event in Glasgow together with heads of state including US President Joe Biden, British Prime Minister Boris Johnson, President Jokowi of Indonesia and President Ivan Duque of Colombia.
– Conserving our forests and other critical ecosystems is indispensable — an indispensable piece of keeping our climate goals within reach as well as many other key priorities that we have together: ensuring clean water, maintaining biodiversity, supporting rural and Indigenous communities, and reducing the risk of the spread of disease. (…). And the United States is going to lead by our example at home and support other forested nations and developing countries in setting and achieving ambitious action to conserve and restore these carbon sinks. So, as simple as it sounds, I think it is this simple. Let's get to work. We can do this. And it will have a generational impact, said Joe Biden in his remarks at the event.
Better rights for indigenous peoples, less deforestation
USD 1.7 billion, approximately NOK 15 billion, will go to support indigenous peoples and local communities. This was announced by the United Kingdom, Norway, Germany, the United States and the Netherlands together with 17 private foundations.
– Better rights for indigenous peoples contribute to reduced deforestation. That's why it is important for us to strengthen the rights of indigenous peoples through NICFI. It's both a matter of social justice and effective conservation of the rainforests. It's great to see that more donors are stepping up their efforts in this field, said Minister of Climate and Environment Espen Barth Eide.
Since 2008, Norway has been one of the world's largest donors to indigenous peoples through NICFI. Prime Minister Gahr Støre particularly promoted the rights of indigenous peoples during his speech at the high-level meeting on forests.
LEAF forest countries: Ecuador, Costa Rica, Ghana, Nepal and Vietnam
Since its launch in April, there has been overwhelming interest in the LEAF coalition by tropical forest countries. More than 30 jurisdictions have already submitted proposals for cooperation.
On 2 November, it became clear that the LEAF Coalition will sign Letters of Intent with its first five forest countries: Ecuador, Costa Rica, Ghana, Nepal and Vietnam.
These agreements are not legally binding contracts, but constitute an intention to get there. Along the way, the forest countries must demonstrate that they have adequate systems in place to measure deforestation, and that they have involved relevant stakeholders such as indigenous peoples and civil society.
– I'm very happy that LEAF is now entering into Letters of Intent with Ecuador, Costa Rica, Ghana, Nepal and Vietnam. By so doing, these countries have committed themselves to high ambitions for reduced emissions, robust requirements for environmental integrity and the inclusion of affected population groups. It is important to mobilise funding for the forest countries' efforts to reduce deforestation, which in turn is crucial if we are to succeed in achieving the climate targets, says Barth Eide.
Norway cooperates with Costa Rica and Ecuador
Furthermore, Norway announced cooperation with Costa Rica and Ecuador to pay for results for the period until LEAF enters into force in 2022.
Norway is offering Costa Rica up to NOK 100 million to reverse deforestation, and is supporting the country in its quest for greater financing from the carbon markets.
In addition, Norway is continuing its existing cooperation with Ecuador by offering up to NOK 200 million for reduced emissions from deforestation achieved in 2020 and 2021.
Large-scale investment in the Congo rainforest
Located in the heart of Africa, the Congo Basin is the world's second largest rainforest. The countries of Central Africa should therefore be given special priority.
On 2 November, 11 donor countries and the US Bezos Earth Fund pledged at least $1.5 billion to the region over the next five years. The money will in part go to emissions reduction, climate adaptation, and to combat the drivers of deforestation. Norway will contribute $250 million during this five-year period.
In addition, Boris Johnson, on behalf of the donors of the Central African Forest Initiative (CAFI), signed an ambitious Letter of Intent with President Felix Tshisekedi of the Democratic Republic of Congo.
DR Congo has demonstrated great ambition in protecting rainforests, including setting concrete goals for the next ten years in a number of sectors that will play an important role in reducing deforestation. The agreement includes support from CAFI of $500 million until 2026 and builds on the agreement DR Congo has had with CAFI since 2016.