Indonesia
Indonesia is the world´s third largest rainforest country. Scattered on thousands of large and small island it is not one, but many rainforests. It´s not one, but several ecosystems. For many years, a rapidly developing economy and a growing population has led to extensive deforestation. But new reforms and committed actions by Indonesias government, firmly backed by Norway, seem to have turned the trend of deforestation.
Facts about Indonesia
Size: 1.919.449 km2 – three times the size of France.
Capital: Jakarta
Population: 265 million
Forested area (2019): 1.2 million km2
Biodiversity: Indonesia is one of the world's 17 megadiverse countries. There is a high number of endemic species- species that live nowhere else in the world- on each island.
The world's third largest rainforest is in Indonesia. Indonesia has in recent years reduced deforestation and has succeeded in significantly reducing greenhouse gas emissions from deforestation, forest fires and peatlands. Since 2010 Indonesia has undertaken important political and institutional reforms.
One in five Indonesians live in and around the forest. These are people whose livelihood first and foremost comes from the forests and the sea.
Indonesia hosts some of the largest areas of peatlands and mangroves in the world. The forests, peatlands and mangroves store enormous amounts of carbon, of vital importance to the global climate.
Other species include the Sumatran tiger, the Javan rhino, the Sumatran elephant and the Birds of Paradise in Papua. All these are endangered due to extensive deforestation.
Yet, the Indonesian Ministry of Environment and Forestry estimates that more than half of Indonesia's species are still unknown to science.
Pulp and paper, logging, mining and forest to clear land for commercial use have also been significant drivers of deforestation.
Norway's Climate and Forest Partnership with Indonesia
In September 2022 Norway and Indonesia signed a Memorandum of Understanding, marking the beginning of a new bilateral climate and forest partnership between the two countries.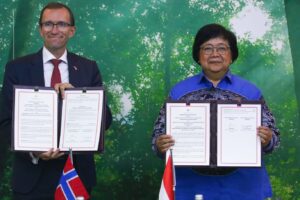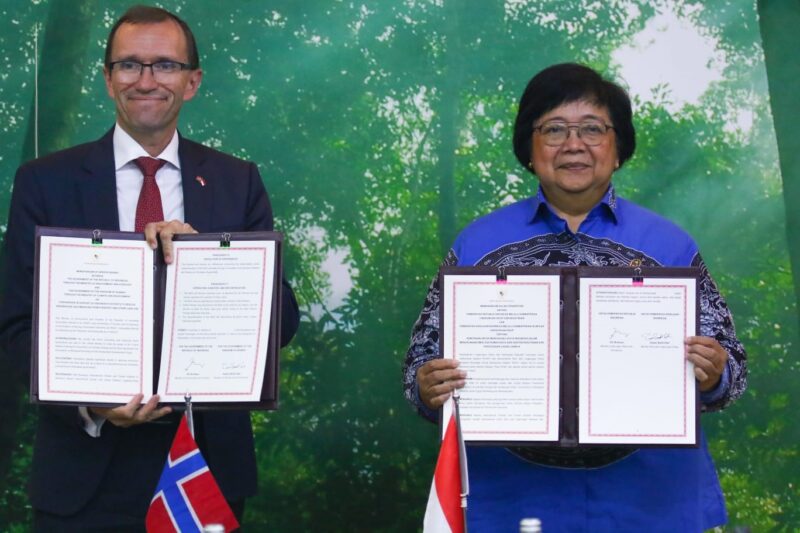 [dss-hidden]Indonesia has become a global leader by reducing its deforestation by almost 90 per cent over the last years to the lowest level in 20 years. Nonetheless, Indonesia's plans for the future are equally ambitious, as the country targets to achieve being net sink in the forestry and other land use (FOLU) sector by 2030.
The FOLU Net Sink Operational Plan
The centerpiece of the Indonesia-Norway partnership going forward is the support of Indonesia's forest policies in the "FOLU Net Sink 2030 Operational Plan". Indonesia aims to become a net sink in the FOLU sector by reducing emissions from deforestation, forest degradation and carbon-rich peatlands as well as absorbing more carbon through restoration of forests, peatlands and mangroves.
The aim is to reduce deforestation to the extent where forest regrowth annually removes 140 million tons CO2 more than the sector emits from forest and peatland utilization by the end of the decade.
The Partnership supports the "FOLU Net Sink 2030 Operational Plan", the partnership with Norway includes results-based contributions where Norway rewards Indonesia for emission reductions from the FOLU sector. Specifically, Norway will support a portion of national level and third-party verified emission reductions from deforestation and forest degradation for forest years 2016/2017 to 2019/2020 based on the existing MRV protocol. Contributions for results generated 2020/2021 onwards will be based on a mutually agreed, updated MRV protocol.
First disbursement of 56 million USD
The first results-based contribution amounted to USD 56 million for verified emission reductions in the forest year" 2016/2017 (August 2016 through July 2017), and was disbursed in October 2022. Additional results-based contributions will be disbursed as emission reductions are verified for subsequent years.
Norway's International Climate and Forest Initiative (NICFI) will channel disbursements directly to Indonesia's Environment Fund (Badan Pengelola Dana Lingkungan Hidup/BPDLH), to support Indonesia's implementation of the "FOLU Net Sink 2030 Operational Plan".
Norway also supports a number of civil society organizations that work to protect forests and promote indigenous peoples' rights in Indonesia as well as the development of public-private partnerships.
Previously, Norway and Indonesia cooperated under a Letter of Intent (LoI) which was signed in 2010. Here, Norway pledged to contribute up to USD 1 billion for Indonesia's reduced emissions from deforestation and forest degradation if Indonesia delivered results in terms of carbon emission reductions from reduced deforestation. Approximately 200 million dollars was disbursed under the Letter of Intent. Indonesia terminated the Letter of Intent in 2021. The bulk of Norway's support to Indonesia under this period went to support efforts to restore its carbon rich peatlands, fight forest crimes and forest fires, and develop a green economy involving a number of different stakeholders around the country.