In the Amazon region, deforestation was reduced by 36,4%. In general, deforestation has been most reduced in the seven counties (departamentos) with the highest deforestation.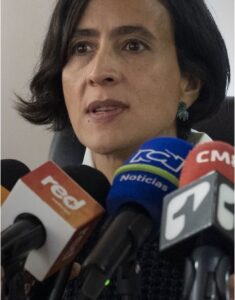 – This shows that the authorities' targeted work and the government's strategy to focus on the areas with high deforestation while setting up dialogues with the local communities has succeeded, says Norway's Minister of Climate and Environment, Mr. Espen Barth Eide. – My sincere congratulations to my colleague Susana Muhamad, President Petro and all the good forces that I know have been working exceptionally hard. This is the result of a coordinated and integrated effort to reduce deforestation, Mr. Eide says.

Holistic policies on peace, nature and climate
Deforestation was more than 50,000 hectares lower in 2022 than 2021, equal to a 29.1% reduction. The result is further overshooting the ambitious deforestation reduction goal Colombia set itself under the joint declaration of intent between Colombia, Norway, the UK and Germany.
– The link to the peace process cannot be ignored. The results from Colombia's holistic approach on connecting peace, climate and nature are very promising, Mr. Eide continues.
Plan to restrain deforestation
In the Colombian Amazon, the main driver of deforestation continues to be land grabbing, mainly through illegal cattle ranching, but also by illicit economies such as coca and the construction of illegal roads. There is also some illegal logging and a continued pressure on the agricultural frontier. Gold mining is another driver of environmental destruction and deforestation, which is increasing in the country.
Due to many years of civil war, the Colombian state has lacked state presence over large areas that have been under guerilla control. The uneven distribution of land, lack of formal land ownership and low access to services and other economic opportunities for the rural population has further contributed to the situation.
The results from Colombia's holistic approach on connecting peace, climate and nature are very promising.Mr. Espen Barth Eide, Norway's Minister of Climate and Environment
After the signing of the Peace Agreement with the former FARC guerrilla in 2016, deforestation in Colombia still followed an upward trend, especially in the Amazon region. In 2015, the governments of Colombia, Norway, UK, and Germany signed the Joint Declaration of Intent (JDI) to reduce deforestation. In the last year, the government of Gustavo Petro has drawn up an ambitious Plan to restrain deforestation, which comprehends social conservation agreements with the local communities and the consolidati on of the forest and biodiversity
economy.
The Plan to restrain deforestation also focuses on the following
The inclusion of deforestation in the government's "Total Peace" policy (negotiations with illegal armed groups)
The deployment of the Public Force in the territories
Guaranteeing a greater State presence in the territory through its entities
Strengthening of criminal investigation to identify those who promote deforestation
Social agreements with local communities and the consolidation of the forest and biodiversity economy