The governments of Norway, the United States, and Gabon are the first to join the Nature Crime Alliance – a global, multi-sector network that raises political will, mobilises financial commitment, and bolsters operational capacity to fight nature crime and the international criminal activities with which it converges.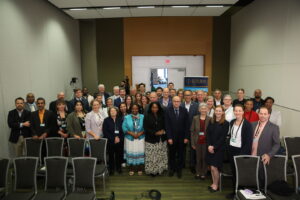 The Alliance's inclusive approach also welcomes the involvement of the UN Office on Drugs and Crime (UNODC) and Interpol, along with frontline defenders, civil society organisations, and private sector representatives, underscoring the significance of collaborative multi-sectoral action in safeguarding people and planet.
Nature crime – a term encompassing criminal forms of logging, mining, wildlife trade, land conversion, crimes associated with fishing, and the illegal activities with which they converge – stands as one of the largest illicit economies in the world, presenting serious environmental, economic and security challenges for governments, communities and businesses alike.
Recognising the urgency and complexity of the issue, the Nature Crime Alliance emerges as a crucial network that seeks to enhance collaboration and coordination between organisations fighting nature crime. Hosted by World Resources Institute (WRI), the Alliance aims to mobilise governments and other non-state actors to scale up efforts to disrupt the criminal networks perpetrating these crimes globally.
The Alliance was officially launched during a side event at the GEF Assembly in Vancouver today. The launch event brought together representatives from a wide range of sectors to discuss how the Alliance can energise the global response to nature crime. A joint statement – the Vancouver Statement on Nature Crime – was also issued by founding members of the Alliance.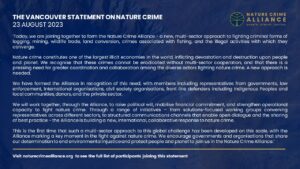 Comments from across the sectors in the Nature Crime Alliance
Jennifer R Littlejohn, Acting Assistant Secretary for Oceans and International Environmental and Scientific Affairs, US State Department, said:
"Nature crimes threaten our collective security. They undermine the rule of law, fuel corruption, destroy ecosystems, and drive species to the brink of extinction—all the while providing billions of dollars to transnational criminal syndicates that prey upon the world's most vulnerable populations. We all must stand together to stop the criminals who are threatening the health of our planet – and that is why the United States is proud to support the Nature Crime Alliance."
Hans Brattskar,  Norway's Special Envoy for Climate and Environment, said:
"Nature is under extreme pressure from illegal human activities. If the world is to meet the global goals of the Paris Agreement and the Global Biodiversity Framework, illicit exploitation of natural resources must come to an end. Norway has been a firm supporter of the Nature Crime Alliance since its inception and we are eager to begin this work together with partners from across the globe."
Ghada Waly, Executive Director of UNODC, said:
"Organised crime groups are desecrating nature's fragile ecosystems by engaging in wildlife trafficking, illegal mining, waste trafficking, and other illicit activities. It's time for global action to end the criminal exploitation and degradation of nature for financial gain. Through our global field presence and long-standing experience in delivering technical assistance and capacity-building support, UNODC can provide law enforcement with the tools and expertise to tackle the criminal networks behind these crimes and preserve our planet for future generations."
Ani Dasgupta, President and CEO, World Resources Institute (WRI) said:
"Complex global challenges such as nature crime cannot be solved in isolation. The Nature Crime Alliance seeks to drive greater collaboration across different sectors and disciplines to  help eradicate crimes against people and planet. WRI is proud to host the Alliance as it builds a global, multi-sector response to nature crime."
Joan Carling, Executive Director, Indigenous Peoples Rights International, said:
"The persistent misconception of Indigenous Peoples as perpetrators of nature crime needs to change towards building partnerships with these communities as stewards of nature."
"The importance of the Nature Crime Alliance for us is that it respects Indigenous Peoples' rights, recognising the value of traditional knowledge and skills in developing conservation measures and strategies that strengthen law enforcement and monitoring."
Joe Walston, WCS Executive Vice President for Global Conservation Programs, said:
"For too long we have ignored these conservation crimes and the impacts these have had on people, especially the most vulnerable, and to the planet. There has never been a more urgent need for the Nature Crime Alliance, which is working across intergovernmental treaties, agreements, and organizations to prevent, disrupt, and prosecute these crimes to the fullest."
Yulia Stange, Director of the Nature Crime Alliance, said:
"The Alliance has identified several areas in which its collaborative, multi-sector approach can have a major impact in the fight against nature crime. These include projects to identify and disrupt financial flows linked to nature crime; efforts to accelerate the development and uptake of innovative tools and technology; and work to strengthen the capacity of frontline defenders, such as Indigenous Peoples and local communities."
"The diverse range of participants in the Alliance reflects a growing consensus around the challenges posed by nature crime, and a determination to eradicate these crimes globally."
Members of the Nature Crime Alliance as of 23 August include:
Government of Norway
Government of the United States
Government of Gabon
World Resources Institute
Interpol
UN Office for Drugs and Crime (UNODC)
Global Environment Facility (GEF)
Global Initiative to End Wildlife Crime
TRAFFIC
Indigenous Peoples Rights International
Wildlife Conservation Society
Wildlife Justice Commission
Amazon Conservation Association
Environmental Investigation Agency US
Fisheries Transparency Initiative (FiTI)
Instituto Igarape
Sustainable Fisheries Partnership
Rainforest Foundation UK
Earth League International
World Forest ID
Fauna and Flora International
Mongabay
***
Organisations that wish to join the Alliance can find out how to do so by visiting naturecrimealliance.org
***
For more information about this media release, including interview requests, please contact