While in Pucallpa on the Ucayali river in the Amazonian rainforest of eastern Peru, all the parties renewed their collective commitment to work towards the fulfillment of Peru's climate goals to protect biodiversity, reduce deforestation and combat global warming through increased cooperation between the regions of the Amazon with the signing of the Pucallpa Declaration.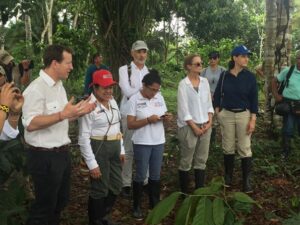 Joint Declaration of Intent
Peru, Norway and Germany signed a joint declaration of intent in 2014 to collaborate on reducing deforestation in Peru and thus contribute to Peru's climate goals and sustainable development. The UK and US joined the declaration in 2021. The visit to Ucayali was a direct follow up of these efforts, the projects visited support amongst other efforts, the sustainable use of the forest and the rights of indigenous peoples.
Under the Joint declaration of Intent (extended until 2026), Norway has committed to support Peru's efforts to reduce emissions from deforestation and forest degradation (REDD+). This includes also recent support to create a National Registry for Mitigation Efforts and a REDD+ financial mechanism in Peru.
Important progress in Peru
Despite being hit hard by the covid pandemic and frequent political changes, Peru has made steady progress on important measures to protect its invaluable rainforest – the 4th largest in the world and 2nd largest in the Amazon after Brazil. The Pucallpa Declaration reinforces these efforts.
Jostein Leiro, Norway's ambassador highlighted in particular his appreciation for the incorporation of knowledge and experience from the indigenous communities in the projects that were visited.
All the ambassadors collectively expressed hope that that these valuable contributions would be taken into account when the Congress in Peru will again discuss suggested amendments to Peru's Forest and Wildlife Law (PIACI). If the PIACI bill were to pass, all pending proceedings related to isolated indigenous communities would be suspended, and the consequences would be detrimental to the isolated communities of Peru.