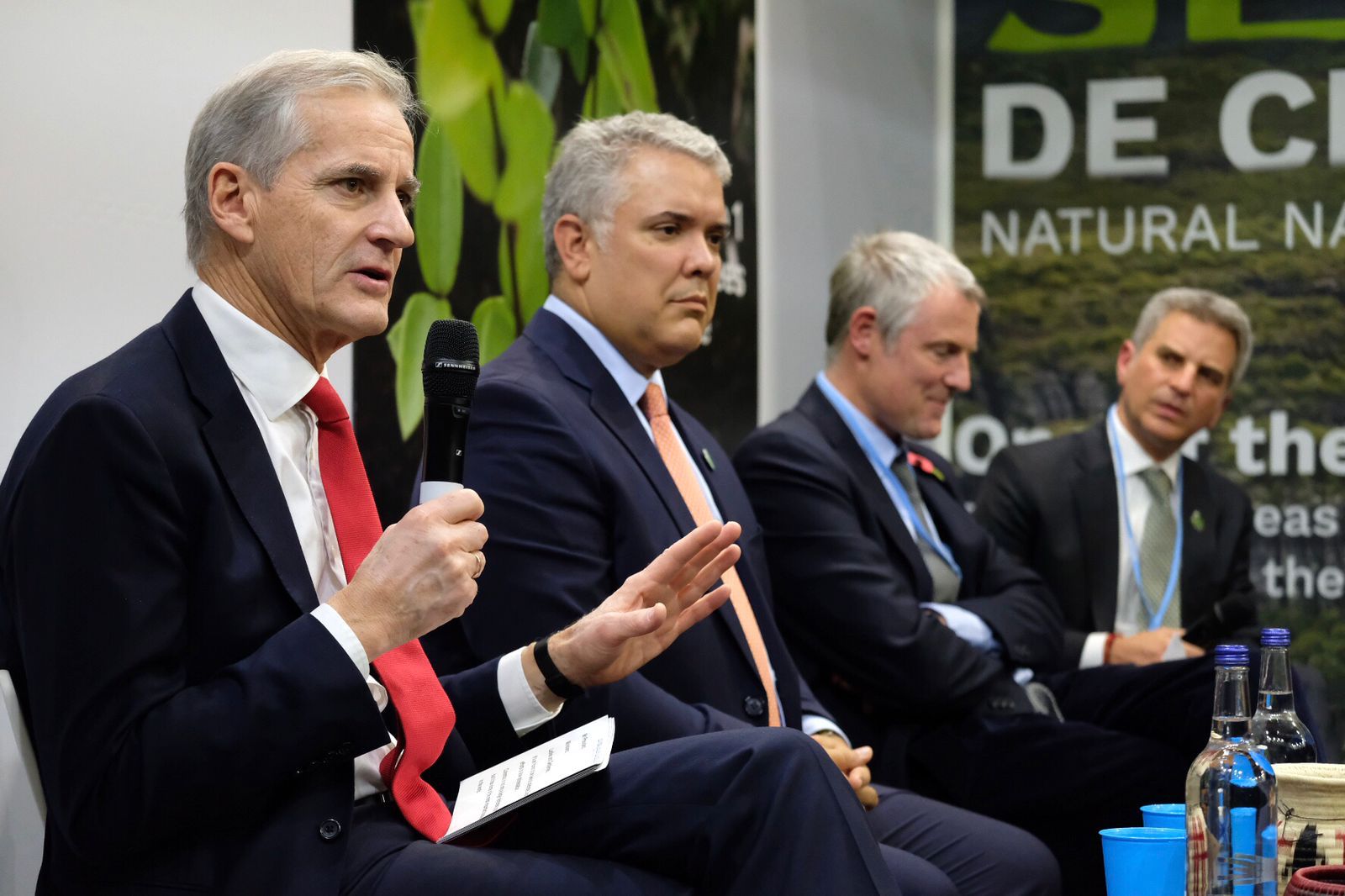 Colombia has strengthened its position as a regional leader in forest conservation and sustainable development. To honour these achievements, Germany, Norway and the UK provide results-based-payments to be reinvested in innovative actions to catalyse further progress on Colombia´s forest targets.
The donation was announced during a press meeting at the first day of the UN climate summit (COP26). The Colombian President, Iván Duque Márquez, welcomed what he considered "the partner countries' recognition" of his country reaching policy milestones in the fight against deforestation. "We are confident that we jointly approach the final steps to enable this payment of USD 33.5 million", he said.
Today's announcement refers to payments for achieved policy milestones by the Colombian government in 2020. Progress includes, among others, the enactment of the National Policy for the Control of Deforestation and the Sustainable Management of Forests as well as interinstitutional arrangements to address deforestation more effectively. Moreover, Colombia updated its NDC and progressed on area-based targets related to the implementation of sustainable land-use. The funds will be distributed between the Sustainable Colombia Fund and the Amazon Vision Programme, to be reinvested in actions to further reduce deforestation, like payments for ecosystem services, sustainable forest management, forest and landscape restoration and the empowerment of indigenous people and local communities.
"We must stop the destruction of forests immediately. We need a fair deal for the rainforests", said Gerd Müller, Germany´s Federal Minister for Economic Cooperation and Development. "I welcome the Colombian track towards ending deforestation. Under Colombia's Amazon Vision Initiative, Germany has supported the conservation of forests, for example through the REDD Early Movers Program since 2016 – and we will remain a committed partner."
The announcement took place in the context of the Joint Declaration of Intent (JDI) that was signed at the COP25 in Madrid in 2019. Under this Declaration, Germany, Norway and the UK, pledged to support Colombia's efforts to reduce deforestation and promote sustainable development, with a total amount of up to USD 366 million, of which up to USD 260 million are payments for achieved emission reductions. In a transition phase, Colombia can receive up to USD 106 million as contributions for policy milestones.
"Colombia has undertaken important actions to reduce deforestation and to protect its incredible biodiversity. We applaud the achievements announced today and Colombia's strong commitment to reducing deforestation in the coming years", said Jonas Gahr Støre Norwegian Prime Minister.
The partner governments stressed the importance of the JDI in supporting Colombia's raised ambitions to cut deforestation by half nationally by 2025 and to reach zero deforestation by 2030. The JDI is an opportunity to support the achievement of these goals and further catalyse Colombia's transformation towards a climate positive bioeconomy and strengthen its regional leadership role in reducing deforestation. Finally, the JDI also represents a centrepiece for Colombia's updated NDC, through which the country commits to reduce greenhouse gas emissions by 51% by 2030 compared to the baseline scenario.
Lord Zac Goldsmith, Minister for the Environment and the Pacific of the United Kingdom said: "We are committed to the protection and sustainable use of forests in Colombia and around the world. COP26, which we are hosting here in Glasgow, is our last chance to keep 1.5°C alive and protecting nature is fundamental to that."
While the road to fully achieve Colombia´s forest goals under the JDI is still long, encouraging signs are evident at the horizon. After a spike in 2020, the departments of Caquetá, Meta and Guaviare, part of the Amazon biome, have seen a 34% reduction in deforestation in the first half of 2021.
Press contact information:
German Embassy Bogota:
Irene Eidemüller
Tel: +57 1 423 26 13
Norwegian Embassy Bogota:
Ole Reidar Bergum
Tel: +57 321 2057433
British Embassy Bogota:
Verónica Robledo Vallejo
Tel: +57 3006529513
Federal Ministry for Economic Cooperation and Development of Germany
Press contact: Philipp Rock
Tel: +49-30 18535 2152
Ministry of  Climate and Environment Norway
Press contact: Daniel Schmidt
Tel: +47 9888 3888
jacob-daniel.schmidt@kld.dep.no
British Embassy Colombia
Head of Communications – Andrea Vanegas
Tel: + 573105611781
Ministry of Environment and Sustainable Development Colombia
International Affairs Chief – David Olarte
Tel: + 573167468812
Note to editor:
The Joint Declaration of Intent signed 11th of December 2019 between Colombia, Germany, Norway and UK can be found here.